My Hero Academia Shoes & Clothes For Kids & Men/Women
MY HERO ACADEMIA SHOES AND CLOTHES FOR KIDS
Anime shoes and clothes for kids are influenced by each character's look and personality in the plot. They are something that anime aficionados will not be able to ignore. We have a large selection of shoes from all stories. So, which collection is the best? Let's have some fun with My Hero Academia Shoes and Clothes for kids today!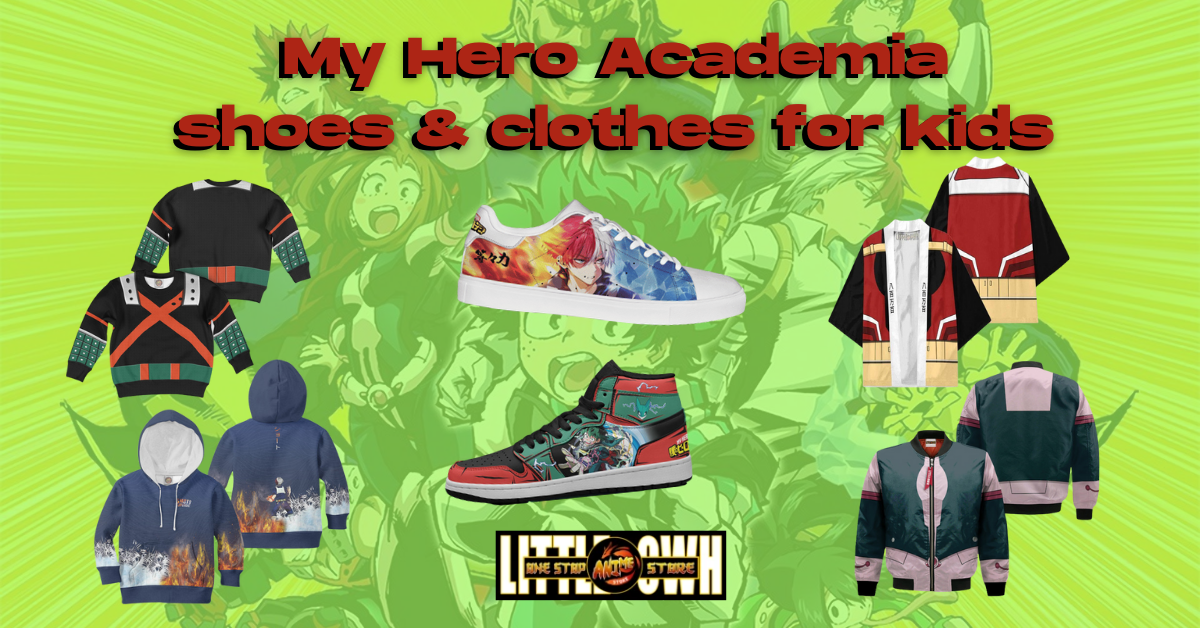 TOP REVIEW OF MY HERO ACADEMIA SHOES AND CLOTHES FOR KIDS
In Japan, My Hero Academia is a popular superhero manga series. The series draws readers in with its diverse cast of characters and fascinating plot aspects. The Littleowh team exclusively designed the My Hero Academia shoes and clothes for kids, inspired by the series' exceptionally gorgeous characters and received good feedback from customers. These products are well regarded for their quality and design.
CHARACTER
Deku's true name is Midoriya Izuku, and he is the main character in the anime series My Hero Academia. Deku's attractive beauty makes female fans fall in love with him. Deku custom shoes and clothes for kids are created as a one-of-a-kind present for My Hero Academia fans, particularly Deku's admirers.
Bakugo Katsuki is also known to readers as Kacchan, a wonderful moniker. He also plays an important role in the success of My Hero Academia. Katsuki Bakugo custom shoes and clothes for kids have a bold style in orange, as well as a stylish and modern design.
Todoroki Shoto is constructed with a mature appearance for his age, which is also one of his striking points. Todoroki custom shoes and clothes for kids are also a fan favorite at Littleowh.com due to their innovative design.
Uraraka Ochaco is also known as Uravity by audiences. She is a cheery schoolgirl who is constantly upbeat and energetic. A girl has boundless vitality. This time, the design of Uraraka custom shoes and clothes for kids gives youthfulness and freshness to the wearer.
Despite the common black tone, which creates a powerful and incredibly personal character, Tomura Shigaraki custom shoes and clothes for kids nevertheless have their own distinct traits. These designs appear to represent a facet of the character, a multi-talented, powerful, and resolute leader named Tomura Shigaraki.
Eijiro Kirishima has a really remarkable physique. He has red-pointed hair on the top of his head that resembles horns. However, this is also seen as his distinguishing trait. Eijiro Kirishima custom shoes and clothes for kids are developed in powerful and vibrant red tones as a result of this attractive attribute. Furthermore, these designs are popular for their super-soft design and materials, which provide comfort to the wearer.
One of the most popular designs in the MHA collections is the Keigo Takami shoes and clothes for kids. Neutral hues are combined with eye-catching graphics to create a balanced and stylish look. These designs are the best option for making you stand out in any setting.
If you like Kurogiri, you should have these Kurogiri custom shoes and clothes for kids right away. Kurogiri translates to 'Black Mist,' which is an outstanding aspect of Kurogiri. This is also a wonderful source of inspiration for the Littleowh team as they develop these sneakers and clothes.
From color to picture, All Might custom shoes and All Might clothes for kids may have a comical aesthetic. The picture of All Might is printed on the sneaker, making it an eye-catching aspect of this design. The soft texture is also an excellent benefit for protecting your children on lengthy travels.
It's no surprise, if you've ever read My hero academia, that our innocent girl Eri is in trouble. Eri custom shoes and clothes for kids will be an excellent present for Eri's admirers.
Toga Himiko is a minor character who plays an important part in introducing My Hero Academia to a wider audience. She is a little girl, but she is really strong. Himiko Toga custom shoes and clothes for kids are inspired by this figure, and are fashioned with the soft manner of a young woman, but are also highly intense and forceful.
In this Shoe Collection, Shouta Aizawa custom shoes and clothes are wonderfully crafted and popular. The dynamic and bold design, along with the character embellishment on the shoe, create a one-of-a-kind break for this design.
We now offer Dabi custom shoes and clothes for kids that you just cannot ignore if you adore this character. As a villain, the character's personality and form are both striking.
Young fans of My Hero Academia are probably familiar with class 1-A (the main character's class). Show your love for them by owning these Class 1-A Custom shoes and clothes for kids.
BEST FRIEND AND COUPLE MY HERO ACAMEDIA CUSTOM ANIME SHOES & CLOTHES.
In the MHA story, there are many couples, close friends, teachers and students that we all admire at the same time. That's why we have a list of custom anime shoes and clothes according to fan-favorite character pairs at My Hero Acamedia.
Uraraka Ochako x Midoriya Izuku clothes
Deku x Ochako Uraraka Shoes My Hero Academia Shoes Anime Sneakers
Deku x Shoto Anime Sneakers Custom My Hero Academia Anime Shoes
Deku x Kacchan Anime Sneakers Custom My Hero Academia Anime Shoes
All Might and Deku Shoes Custom Anime Classic Slip-On Sneakers
Shouto x Izuku x Katsuki custom shoes for kids

STYLE OF MY HERO ACADEMIA CUSTOM SHOES FOR KIDS
Jordan sneakers are the most popular shoe style right now. Jordan sneakers are deserving of the title of Sneaker King due to their contemporary, young, and energetic design. The mix of Jordan shoes kids with My Hero Academia creates new fashion and quality experiences.
The soft materials and energetic designs of My hero academia AF1 shoes kids are vital benefits. This is one of the most popular designs on gearanime.com. You won't be able to ignore such an easy-to-use design. The shoes are the ideal blend of elegance and functionality.
We are certainly no strangers to Jordan 13 sneakers. Choosing MyHhero Academia Jordan 13 sneakers, on the other hand, will make you stand out more than ever, especially during anime gatherings. Are your children fans of the My Hero Academia series? Do you have a thing for Jordan 13 shoes? Then, don't miss out on the incredibly practical and fashionable design 2 in 1 My Hero Academia Jordan 13 shoes kids.
My Hero Academia Stan Smith styles shoes kids are always the best option for everyday use. Outstanding design can make it easier to mix and match.
Choose a pair of shoes that reflect your personal style. What's the harm? You only need to pre-order the style and character you desire, and we'll make your children's dreams come true. Littleowh.com's distinctive shoe designs allow kids to express their personality.
If you want a shoe that is uniquely yours while still being trendy and gorgeous, this is the shoe for you. Don't forget about My Hero Academia Yeezy shoes kids. This is a game-changing combo inspired by the My Hero Academia manga and combines the most popular Yeezy sneaker design. Make a distinct mark for yourself!
Do not overlook these. My Hero Academia converse shoes kids, What could be better than dynamic and attractive materials that will protect your feet, right?
My Hero Academic skate shoes kids are also one of the most eye-catching and distinctive styles available at Littleowh.com. My Hero Academia skate shoes for kids have their own personalities, providing a breakthrough in your children's fashion.
Have you already purchased these My Hero Academia slip-on shoes kids? This design is well-known for its high quality and stylish appearance. That is why you should not overlook My Hero Academia slip-on sneakers for kids.
My Hero Academia shoes vans kids are always a safe choice for children because of the convenience and comfort they bring.
TOP STYLE OF MY HERO ACADEMIA CLOTHES FOR KIDS
If you want to seem current and cool, T-shirts are a must-have. Because of its creative design and long-lasting quality, this has recently become a popular alternative. The most popular designs from the series can be seen in Littleowh.com's My Hero Academia T-shirt kids area.
Because of the growing popularity of anime, cosplay is becoming increasingly popular. Take a peek at our My Hero Academia Kimono Cardigans Kids assortment.
The My Hero Academia Hoodies and Sweaters Kids are made of soft, breathable fabrics. A large number of young people favored the My Hero Academia Hoodies & Sweater Style Kids. You may be guaranteed that this unique combination of musical styles will not disappoint.
My Hero Academia Jackets are a must-have item for anime aficionados. This is a striking design with a simple aesthetic. There is no better method to give your children a young and energetic appearance than with My Hero Academia Jackets Kids.
MY HERO ACADEMIA UGLY CHRISTMAS SWEATER KIDS
During the holiday season, the My Hero Academia Ugly Christmas Sweater kids is a must-have. One-piece sweaters provide an excellent keepsake for your child.
This design's blend of My Hero Academia and Clothes themes is nothing short of fantastic! Customers have always preferred My Hero Academia cosplay outfits for youngsters due to their versatility and easiness. It wouldn't be My Hero Academia without the supporting cast.
ACCESSORIES
MY HERO ACADEMIA SOCKS KIDS
My Hero Academia Socks kids is inspired by the many personalities of the My Hero Academia characters. Each pair of socks has a one-of-a-kind pattern that will make your complete outfit stand out. Furthermore, My Hero Academia Socks kids are carefully picked from quality to style to provide comfort to your children's feet.
MY HERO ACADEMIA PHONE CASES KIDS
Littleowh.com offers fashionable, customizable phone cases. If you appreciate My hero academia, then charming goods like socks and phone cases are must-haves. My Hero Academia phone cases kids not only protect your children's phone but also gives them a fashionable and hip vibe.


Q&A ABOUT MY HERO ACADEMIA SHOES AND CLOTHES FOR KIDS
DO MY HERO ACADEMIA SHOES AND CLOTHES FOR KIDS HAS A DIFFERENCE?
LittleOwh has a large selection of My Hero Academia shoes and clothes for kids. Customers may easily choose their chosen items in our store. Furthermore, if you are unsatisfied with the store's present offerings, we would gladly accept designs based on your suggestions.
HOW TO ORDER LIMITED DESIGNS ONLY FOR YOUR MY HERO ACADEMIA CUSTOM SHOES AND CLOTHES
If your children are a fan of the My Hero Academia series and are seeking shoes that suit your taste, come to our store and purchase them right now!
Please contact us via support@littleowh.com for assistance our customer services team will create a shoes and clothes design only for your children.