NARUTO
NARUTO SHOES AND CLOTHES FOR KIDS
If your child is a big fan of the Anime series. For your child, you want to buy a unique present that reflects the character's unique personality, and Naruto shoes and clothes for kids are a perfect choice. Taking inspiration from the Naruto manga, these Naruto shoes and clothes for kids are a unique blend of design and character. Relax and have fun!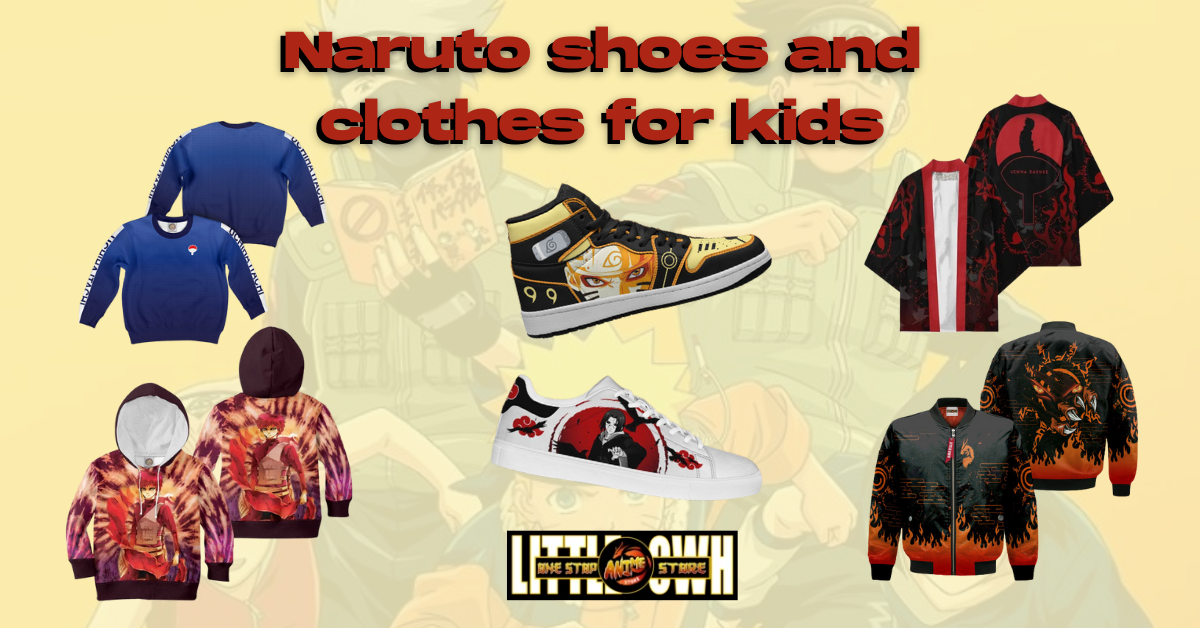 TOP REVIEW OF NARUTO SHOES AND CLOTHES FOR KIDS
Exclusively created shoes based on the character's look and attitude are available at Littleowh.com. Each pair of our shoes is made of high-quality materials that are safe for young feet. You don't have to be concerned about the quality of any Naruto Shoes and clothes for kids products based on the characters and movements listed below.
It doesn't matter what type of attire you're wearing, these unique shoes will look great. The materials used to make these shoes are also soft, ensuring the wearer's comfort. At LittleOwh Anime shoes for kids, all of our customers are happy with our products, and their children enjoy them!
CHARACTERS FROM THE NARUTO COLLECTION
The Naruto series' protagonist, Uzumaki Naruto, is well-known. This guy has a large following despite his unassuming demeanor. The novelty and innovation of Naruto custom shoes and clothes for kids are impressive. Make no more excuses and get yourself a pair of Naruto Shoes with your name on them right away.
Throughout his childhood, Itachi was a calm and intellectual child, much older than he actually was. This character is adored by a large number of readers. In addition to their unique styles and colors, Itachi custom shoes and clothes for kids are also receiving a lot of great feedback from customers.
Hatake Kakashi is a well-educated man. Copycat Ninja is his moniker. The Littleowh team produced Kakashi custom shoes and clothes for kids with bold sophistication and extreme sportiness in mind, inspired by this character. It is possible to personalize the look of the shoes, in particular, the style. Simply place an order with Littleowh.com in advance.
For Sasuke fans, custom-made Sasuke shoes for kids are a must-have. Sasuke custom shoes and clothes have a stylish suit for the kid, sporty design that will assist you in going where you need to go.
Naruto's Hinata is an intriguing character. Even though Hinata is a frail young woman, she nonetheless managed to win over the hearts of many of the series' readers. In honor of this anime character, the Hyuga Hinata custom shoes and clothes for kids are edgy and fashionable while yet being youthful.
When you think of Haruno Sakura, you think of a sharpshooter with a fiery temper. There has been a lot of great comments from young people about Haruno Sakura custom shoes and clothes for kids. If you're attending a formal occasion, these shoes will nonetheless make you stand out.
In the Naruto shoe collection, the Gaara Customized shoes are a standout design. If your children are a fan of Gaara, you should not pass up the opportunity to own this one-of-a-kind pair of Gaara custom shoes and clothes for kids.
As part of your style and fashion sense, a well-chosen pair of shoes can show your personality. To top it all off, a nice pair of shoes will keep your feet safe and allow you to explore new locations. You can have it all with Might Guy custom shoes and clothes for kids.
As depicted by Ino, a young Yamanaka clan member. Ino Yamanaka custom shoes and clothes for kids are a popular choice for young people because of their eye-catching colors and fashionable designs.
When it comes to "Kunoichi" (female ninjas), Tsunade is often regarded to be one of the most powerful. As a result, viewers are left with a lasting impression of the character. Tsunade's image and name are delicately imprinted on the shoes, revealing something about the wearer's character.
Rock Lee is a lively and vivacious individual. Rock Lee custom shoes and clothes for kids are also available in a variety of vibrant, distinctive, and young hues that match the character.
Temari is a mature young lady who speaks her mind without hesitating. For those who admire Temari Nara, personalized shoes made by her are the greatest option. These Temari Nara custom shoes and clothes for kids, in terms of fashion, also provide the wearer with a youthful and current appearance.
Naruto's muscular young man Hidan must be familiar to us. In addition to displaying your devotion to Hidan, having his image and name prominently displayed on your footwear is a great way to demonstrate your personal sense of style.
You can design and style your own shoes to your heart's content. A fan of Jiraiya will be satisfied with the custom shoe design collection of Jiraiya. Designs are as varied as the palette of colors they use.
Ninja Shikamaru comes from the hamlet of Konohagakure. The fact that he was a lethargic kid didn't stop him from doing an excellent job, though, because of his extraordinary intelligence. custom shoes and clothes for boys on Shikamaru Nara tend to have a robust and dynamic appearance.
Inspired by the incredibly attractive young man known as Minato. With their unique designs, custom shoes and clothes for kids by Minato Namikaze have never looked so good!
To Deidara, art is art, no matter what one's personal taste may be. As a result, the designs of Akatsuki Deidara custom shoes and clothes for kids tend to be a little more artist-oriented.
The quality and uniqueness of Uchiha Obito custom shoes and clothes for kids leave a lasting impression on its fans. At Littleowh.com, you can choose the style and design you prefer, as well as your favorite character.
A variety of shoes tailored to your personal preferences are available. The shoes' style and color can also be used to show your admiration for your childhood idol. The Littleowh team creates each and every product to fit your exact specifications.
The pseudonym "Pain" was given to Nagato because he was always a sensitive, gentle, and quick-witted child who felt the pain of others as well as his own. Nagato Pain custom shoes and clothes for kids were created as a result of this unique personality.
Shisui Uchiha custom shoes and clothes for kids
Shisui Uchiha custom shoes and clothes for kids round out our list of footwear options. As a genius, Uchiha Shisui is only here for a brief time. Despite this, he was nonetheless adored by readers.
Naruto couple buddy shoes for kids
While Naruto is mischievous, he is also carefree and dumb, so it's no surprise that Hinata is drawn to him. Even as a child, Hinata stood silently in the distance, cheering on Naruto and falling in love with him despite the village's rejection of him. As a result of this joyful ending, Naruto and Hinata are now married with two beautiful children. Your child will be delighted if given a pair of Naruto x Hinata shoes for kids.
Despite the years that have passed, Sakura's feelings for Sasuke remain the same as they were as a little child. Sasuke finally reciprocated Sakura's affections, and the two produced a brilliant daughter together named Sadara. If your children are fans of this couple, please give them a pair of Sasuke x Sakura shoes for kids.
Naruto and Sasuke have a particular place in each other's hearts due to their shared experiences. Inadvertently snatched each other's "first kiss" Fans have taunted Naruto and Sasuke since they stole each other's first kiss. The public commonly refers to them as a "pair." This couple is loved by the kids as much as the two main couples. That's why Littleowh designed these Naruto x Sasuke shoes for kids in return for their love.
You can always count on Littleowh for new anime designs that show off your individuality.
JUTSU NARUTO SHOE COLLECTION FOR KIDS
"Spiral Ball" is another name for Rasengan. Naruto's characters use the Rasengan method to transform into other forms. The Naruto character Rasengan is prominently displayed on the sneaker, a nod to the series' devoted following.
Naruto's Susanoo Jutsu is one of a kind. Wearing Susanoocustom shoes and clothes for kids gives them a strong, confident sensation.
Hatake Kakashi was the brains behind Chidori. The user of Chidori must gather lightning energy into their palm. "
Littleowh's best-selling items are Naruto Chidoricustom shoes and clothes for kids.
A magical technique in the Naruto series, the Rinnegan, is extremely powerful. Rinnegan's custom shoes and clothes for kids are strong and enchanting, just like Rinnegan's personality.
Naruto Baryon Mode is one of the best seller Naruto Shoes. According to Kurama, it involves smashing Naruto's chakra and the Nine-Tails' chakra together in a manner similar to nuclear fusion, creating entirely new energy.

Rasenshuriken custom shoes and clothes for kids
A powerful move called Rasenshuriken is described numerous times in the series. Littleowh.com is the only place to get Rasenshuriken custom shoes and clothes kids.
Byakugan custom shoes and clothes for kids
Byakugan is the final Jutsu we have. With its incredibly refined style, Byakugan custom shoes and clothes for kids stand out. The use of a single, subdued color that is yet striking establishes the brand's uniqueness.
TOP STYLE OF NARUTO SHOES FOR KIDS
The popularity of Naruto Jordan shoes may no longer be necessary to discuss. Innovative design and long-lasting quality have made this a popular choice recently. Littleowh.com's Naruto Custom Shoe kids collection features the most popular Naruto Jordan shoe designs.
A pair of Naruto Air Force 1 shoes for kids is the ideal footwear choice for any anime fan.
With a simple design, yet nevertheless eye-catching and fashionable. It's a youthful and dynamic appearance that comes from Naruto Air force 1 shoes.
The design and materials of the Naruto Jordan 13 shoes for kids are both unique and comfy, breaking the mold in terms of both style and comfort.
Naruto style X Jordan 13 Shoes style is the perfect combination, displaying the wearer's uniqueness while also delivering an air of fashion.
Littleowh is continuously looking for new and innovative methods to express themselves via their designs. This design achieves a new level of innovation by fusing elements of the Naruto and Stan Smith aesthetics. Customers have always preferred the Stan smith style for its ease of use and wide range of potential applications. They are the perfect complement to Naruto's supporting cast of characters.
Customers always give Yeezy shoe Style a thumbs up. Yeezy shoe Style and Naruto style suit kids were embraced by a large number of young people. You won't be disappointed with this combination of youthful and dynamic styles.
You can't go wrong with Naruto converse shoes for kids.
From the office to anime conventions and festivals, Naruto converse sneakers are versatile. This design is a must-see if you're a fan of Naruto and enjoy dynamic movement.
Have you purchased your child a pair of Naruto skate shoes for kids yet? It's hard to go wrong with these designs. Now is the time to act. Pick out your Naruto skates right away.
Vans soon recognized the trend and capitalized on it by releasing an entire line dubbed Vans X Naruto, which had intriguing cartoon touches. From the character's picture to the details in the plot, everything is replicated, impressed with many sharp and classy tones, allowing you to meet your preferences quickly and easily. Vans Slip-on and Sk8 - Hi lines with modern attractiveness are included in the collection.
TOP STYLE OF NARUTO CLOTHES FOR KIDS
T-shirts are a must-have if you want to seem contemporary and hip. This has lately been a popular choice because of its innovative design and long-lasting quality. Littleowh.com's Naruto T-shirt kids section features the most popular designs from the series.
Cosplay is becoming increasingly popular as a result of the rising popularity of anime. Shop for Naruto Kimono Cardigans Kids in the collection now.
Soft, breathable materials are used to create the Naruto Kids Hoodies & Sweaters. The Naruto Hoodies & Sweater Style Kids were popular with a huge number of young people. Music lovers may rest certain that they will not be let down by a unique blend of styles.
For anime fans, Naruto Jackets are a must-have. With a clean, uncluttered look, this is a standout piece of artwork. Naruto Jackets Kids are the best way to give your children a youthful and energetic image.
Naruto Ugly Christmas Sweater kids
The Naruto Ugly Christmas Sweater kids is a must-have throughout the holiday season. One-piece sweaters are wonderful gifts for children.
Naruto cosplay clothes kids
The way the Naruto and Clothes themes have been combined in this design is amazing! As a result of its adaptability and simplicity, Naruto cosplay costumes for children have long been a favorite among customers. Without the supporting cast, Naruto wouldn't be the same.
NARUTO ACCESSORIES FOR KIDS
All you need for the ideal ensemble are some Naruto Socks for kids.
The silky cotton quality of these Naruto Socks ensures that your feet are kept warm and dry.
Naruto Phone cases for kids
The Naruto phone cases for kids are a great way to protect your children's phone while still looking stylish. Allow yourself to be who you truly are, including your love of anime.
THE MATERIALS OF NARUTO CUSTOM SHOES AND CLOTHES KIDS SIZE
Leather and cloth are the only two materials available for the Naruto shoe collection. These are two of the most sought-after materials in the fashion industry because of their quality and beauty.
Naruto leather custom shoes and clothes for kids size
Naruto leather shoes are a stylish statement unto themselves. Additionally, this material provides a high level of foot safety.
Naruto canvas custom shoes and clothes for kids size
This material's indispensable benefits include its softness, ease of care, and exceptional fashionability.
NARUTO custom shoes and clothes for kids SIZE FOR SALE
When you shop at Littleowh.com, don't forget to take advantage of the fantastic discounts. Take advantage of this fantastic sale to score a great deal on your favorite shoes.
You may read more real customer reviews about Naruto shoes for kids on our website.
NARUTO custom shoes and clothes for kids SIZE IN REAL LIFE
Both the service and the product at Littleowh.com are of the highest caliber.
Q&A ABOUT NARUTO SHOES FOR KIDS
How Quality is Naruto Shoes for kids?
The style and substance of the Naruto shoes for kids are guaranteed to match the newest trends in the industry. Therefore, the beauty of the shoe is guaranteed, easy to mix with other fashion accessories. In addition, the smoothness and durability of Naruto sneakers are also unquestioned. Thanks to such, the wearer can comfortably move and move without causing discomfort to the feet.
Second, the color of these shoes fits all the needs of the wearer's preferences. Customers can easily choose their favorite Naruto shoes according to their unique preferences youngsters.
Finally, its price is much better while the design is more eye-catching than the original designs. Therefore, Littleowh's Naruto shoes for kids are perfect quality and acceptable for your child.
Are Naruto shoes suitable for boys & girls?
Identifying and satisfying the shoe-buying desires of both boys and girls. Littleowh was founded and is now a popular destination for those who wish to learn about and purchase children's shoes and anime merchandise.
Dynamic Naruto shoes that are perfect for your child's unique personality and sense of style may be found right here. Additionally, Littleowh's Naruto shoes for kids are one of a kind, as they may be made to fit the specific feet of your child. As a result, the youngsters are able to thoroughly personalize the objects without concern of conflicting with others.
Why should you choose LittleOwh to buy Anime gifts for kids?
Littleowh has a wide variety of Naruto shoes for kids, so you'll have no problem finding what you're looking for.
Aside from the fact that Littleowh has an excellent after-sales policy and a reasonable price, our fast shipping and professional customer service attitude make us the best place to buy Naruto custom shoes and clothes for kids' size.
Aside from our affordable prices and excellent after-sales service, Littleowh's fast shipping and knowledgeable customer support staff make shopping with us an enjoyable experience for everyone. For you and your partner, Littleowh is the place to go for a perfect, high-quality product.
Visit Littleowh for a completely free consultation and go away with fantastic, high-quality products for you and your children